Vassily Kandinsky
(Russia, 1866 – 1944)
The Boccara Gallery presents a unique tapestry by Wassily Kandinsky.
Didier Marien, the director of the Boccara Gallery has carried out an important research in the Tabard workshop in Aubusson and is pleased to present the exclusive presentation of the tapestry "Sur Fond Noir", a unique work signed and dated by this incredible Russian artist.
Wassily Kandinsky was born in Moscow in 1866 in a wealthy and educated family. He learned German from his grand-mother and took piano, cello and drawing lessons.
In 1885 he went to Moscow State University to study Law and Economics. At the age of 30, he decided to abandon a promising teaching career and dedicate himself to art. He went on to Munich to study painting, created, with other artists from Munich, the Phalanx Association, in opposition to the conservative views of the Academy and the Sezession. After twelve exhibitions Kandinsky dissolved Phalanx in 1904 because of lack of public support for association's aggressively progressive spirit.
He started teaching art, met Gabriele Münter, a German artist, who became his mistress until 1914. Together they traveled across Europe and North Africa and in 1906 they moved to Paris for a year. During this period, he created small format paintings, impressionist landscapes, still under strong influence of Monet and the artists of the Paris scene. In 1908, Kandinsky moved back to Murnau, Germany with Gabriele Münter, where his actual artistic career finally flourished. Landscapes, popular culture – his favorite themes at the time, remained unchanged, but his artistic approach towards them became increasingly abstract, the colors more and more autonomous.
He helped found the Neue Künstlervereinigung München (Munich New Artists' Association), becoming its president in 1909 (dissolved in late 1911). In 1910 Kandinsky then formed a new group, the Blue Rider (Der Blaue Reiter) with like-minded artists such as August Macke, Franz Marc, Albert Bloch, and Gabriele Münter, which continued to be active (almanac, exhibitions) until the outbreak of World War I in 1914.
When the war started Kandinsky left Munich to take refuge in Switzerland and then went back to Moscow, where he stayed until 1921.  During the first years of the communist regime, he got to be involved in the cultural politics of Russia, collaborated in art education and museum reform and helped organize the Institute of Artistic Culture in Moscow. During this period, he started writing "Point and line to plane", published only in 1926. Those years he didn't paint much, focusing, for material questions, on drawing and works on paper.
In 1921, as his own his situation had become more and more precarious, while on an official mission, he accepted the offer of a teaching position from Walter Gropius, Director of the Bauhaus, and became a teacher at the school until its closure in 1933. Stripped of his German nationality Wassily Kandinsky moved to Paris, France, as a stateless person.
It was only in 1939 that he became a French citizen, just before the Second World War. During the last years of his life he lived with his wife and continued his artistic research in Neuilly-sur-Seine, dying in 1944.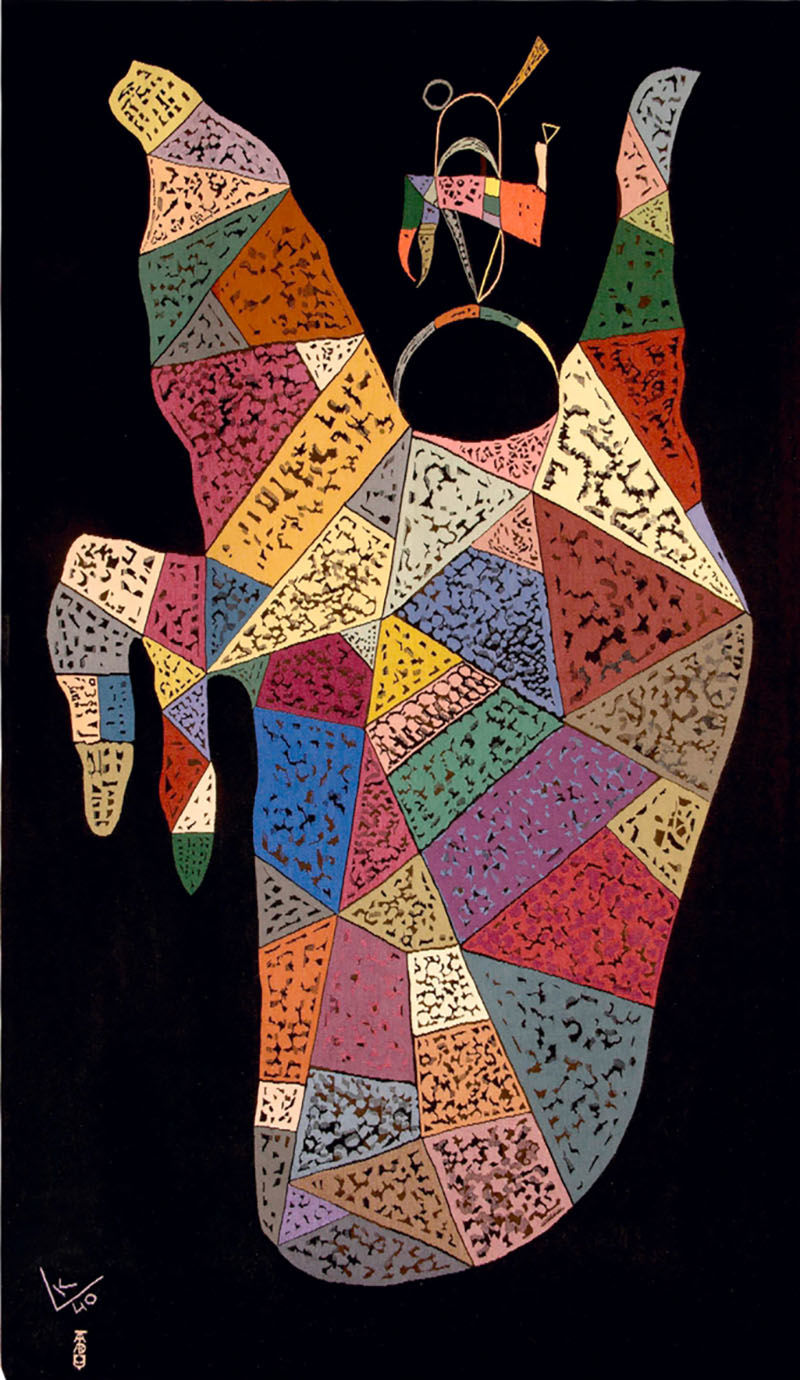 Aubusson Tapestry by Vassily Kandinsky, Tabard workshop "On Black Background"
75 x 102 in.
Wool, hand-woven
Read more