The Boccara Gallery has a unique expertise and know-how in the field of modern tapestry which allows us to present you today an exclusive selection of tapestries. You can discover this selection of the most important tapestries by artists of the XXth century such as Alexander Calder, Fernand Léger, Vassily Kandinsky, Sonia Delaunay, Victor Vasarely, Le Corbusier, Mathieu Matégot, Jean Lurçat, Emile Gilioli, Vincent Guignebert, and many others. Each piece in our selection embodies the innovative spirit and artistic vision of these 20th century masters. Daring compositions, vibrant colors and ancestral techniques combine to create true works of art that we will call "modern tapestries".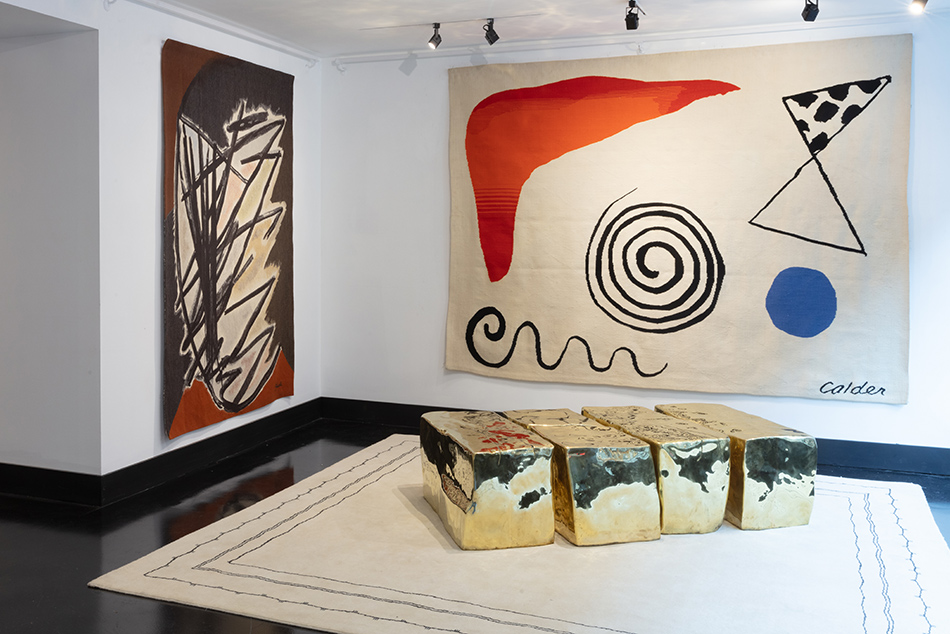 At the beginning of the XXth century, tapestry has known a new rise on the impulse of Jean Lurçat who created a dynamic around him. He revived the Aubusson workshops and brought tapestry up to date. We can absolutely speak of a school of Jean Lurçat. From this moment, many artists will be interested in tapestry and will create works especially for this support: Mathieu Matégot, Sonia Delaunay, Victor Vasarely, Alexander Calder, Fernand Léger, Wassily Kandinsky, Marc Saint-Saëns, Dom Robert, André Borderie and Le Corbusier.
After the war, under the impetus of several galleries, tapestries will become even more popular and will reflect a French art of living. The greatest decorators of the world will use them and will emphasize them in unheard of decorations.
We can consider that modern tapestry has definitely taken its place in the decorative arts.
The Boccara Gallery was a pioneer in exhibiting its pieces in its galleries and salons and often in associating them with old tapestries, which gave an even greater dimension to modern tapestries.
Today we are still discovering artists who had remained in the shadow, who had not had the chance to be highlighted and the Boccara gallery is happy to participate in this revival.
You will be able to discover these tapestries in shows such as Masterpiece in London, PAD Paris, Fine Art Asia, Art Los Angeles etc.
All the tapestries of the Boccara collection are sold with their original bolducs and in excellent condition.
The tapestries are delivered with a certificate of expertise written by Didier Marien.