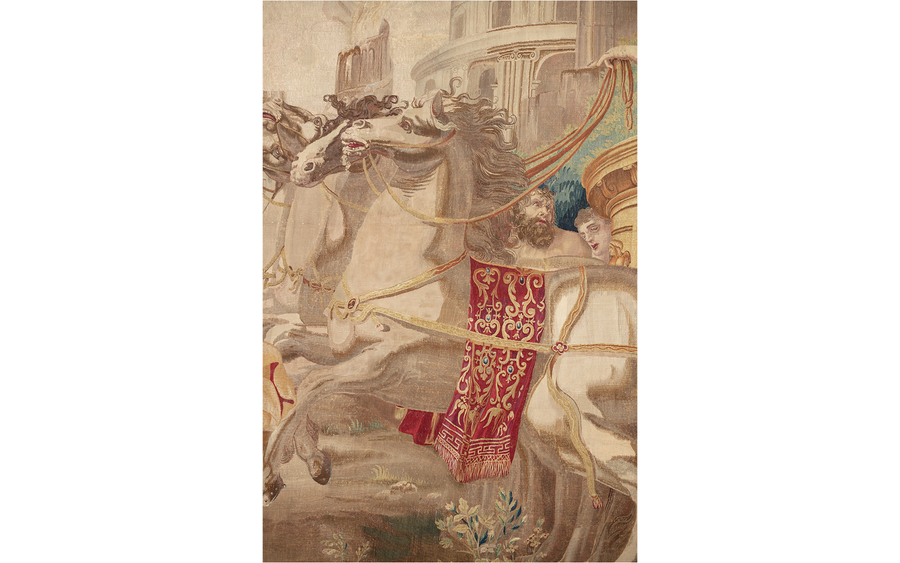 Detailed information
Brussels Tapestry – second half of the 17th century
Property of a Midwestern educational institution
BRUSSELS TAPESTRY DEPICTING MARC ANTONY AND CLEOPATRA, AFTER DESIGNS BY CHARLES POERSON (1609-1667), SECOND HALF OF THE 17TH CENTURY
Materials : Wool and silk
Dimensions : 3.81 m. by 4.5 m. /149x 177 in
Provenance : Estate of Senator Champ Clark (according to the 1968 inventory).
Gift of Dora Donner Ide, by reputation.
Condition Report : Old lining with buckles. Posterior edge. Good colors throughout. Probably slightly reduced. Some restorations and reweaving in light areas of the silk. Some minor losses to the silk and a few small cracks. Water stain along the right edge of the inner panel. Some areas of inpainting to enhance the colors (especially along the bottom edge, but not very noticeable).
Material: laine et soie
Date: 17th century
Type: Tapestry
Manufacture: Tapisserie de Bruxelles
Provenance: Private collection