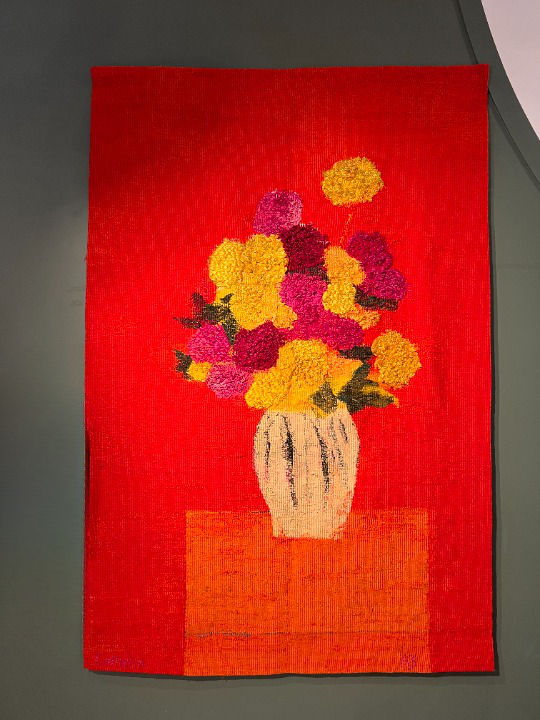 Detailed information
The tapestry titled "Rose of India and Zinnia in a Hungarian Vase on a Red Background" is a unique piece from the Boccara collection. It was skillfully woven by the talented team at "L'Atelier 3."
This tapestry by Cathelin was designed to be exhibited at the famous La Tour d'argent restaurant in Paris. Its captivating design and vibrant colors were specially created to complement the refined and welcoming atmosphere of the restaurant. Every detail of this artwork has been carefully thought out to evoke an elegant and warm ambiance.
The history of this unique piece dates back to 1973 when André Brasilier introduced Bernard Cathelin to the skilled weavers of L'Atelier 3. This encounter marked the beginning of a long collaboration that gave birth to this exceptional tapestry. Influenced by innovative techniques of the "Nouvelle Tapisserie," particularly in terms of volume and relief, L'Atelier 3 specialized in reproducing renowned paintings, including those of Alechinsky, Arman, Jorn, and many others.
Frédérique Bachellerie, co-founder of this prestigious workshop, shared her experience in the catalog of the Angers exhibition (pages 56-57): "We were able to enlarge Bernard Cathelin's floral bouquets far beyond the usual proportions. Bernard was always full of enthusiasm, and the resulting tapestry seemed to truly possess the wall. By applying his oil painting technique with a knife and working with successive layers, we were able to experiment with techniques that produced a striking relief effect."
In this unique piece, the monumental format and the relief effect on the flowers perfectly showcase L'Atelier 3's expertise in translating Cathelin's works into tapestry. This special work, born from a close collaboration between the artist and the workshop, pushes the boundaries of traditional tapestry by using three-dimensional techniques and innovative materials, bringing this creation closer to textile art.
[Photo: Didier Marien and the team from L'Atelier 3]
Date: 1980
Type: Tapestry
Manufacture: Atelier 3
Provenance: France
Condition: parfait